The following is a guide to help you groom your pet the right way. The first thing you should do before pet grooming is to make him feel comfortable and relaxed. This can be achieved by stroking him or giving him treats. You should also keep your pet in a clean environment while grooming to make sure that he is not stressed out by the surroundings.
All pets, no matter the breed, need regular grooming. It is not just fun and a chance to show off your new haircut but it's also a way to maintain your pet's fresh smelling and healthy-looking coat. Grooming is important for both dogs and cats.
Dogs have natural oils in their fur that help protect them from skin irritations, infections, and parasites. Cats' coats should be brushed about once a day to keep away shedding hairballs. The best way to pamper your dog is by giving it a bath! It's true, in today's world most dogs don't smell bad but have you ever heard of wet dog smell? Dogs get dirty just like humans.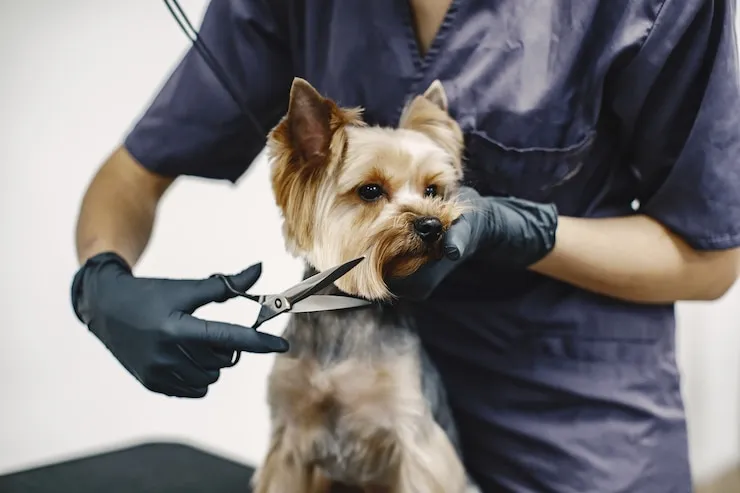 There are many ways to groom your pet, and what you choose depends on the type of fur or hair your pet has. There are three main types of fur: short, medium, and long.
Why Should I Get My Pet Groomed?
Grooming your pet is necessary to keep them clean and healthy. For dogs, this means trimming the hair around their paws and face so that they are less likely to track dirt and debris throughout your house. Cats have sensitive skin that is exposed when we groom them, so it's best to use a brush with soft bristles instead of a comb. Regular grooming will reduce the risk of fleas which can spread diseases such as plague.
Grooming is a vital part of a dog's well-being and health and can improve its quality of life. While many dogs lose charge, others like the poodle don't shed as much and require grooming every 4-8 weeks. Grooming helps decrease shedding in cats and dogs by removing the loose hair that becomes matted around the skin or fur. It also minimizes tangles.
The most important part about grooming your furry friend is being gentle and caring for other aspects of their health like brushing teeth and nails too. Grooming starts with the health of your pet and after that, you can focus on the actual grooming.
Types of Grooming
Grooming is a process of cleaning, trimming, and mat removal. There are three types of grooming: basic, routine, and show. Basic grooming includes nail trimming and ear cleaning. Routine grooming includes bathing, brushing the fur or hair, and trimming the nails. Show grooming encompasses all of those tasks as well as trimming the hair on the feet or face, polishing the claws, making sure the toes are clean from any dirt or debris to avoid scratches from other animals in a show setting.
Health Benefits: Cleaner Skin, Reduced Allergens, and Fleas
Pet grooming is a necessary and beneficial routine for your pet. Not only does it make their fur look better, but it helps keep them healthy too. Regular grooming can reduce allergens and fleas by removing them from the coat of your pet. It can also reduce stress, especially in cats, by keeping them calm while they are handled.
Regular pet grooming not only makes your pet more comfortable and less itchy but also reduces the chance of them getting sick. Weekly grooming can reduce hairballs by 80% and lower the chance of developing skin infections.